Did you know that 90 per cent of Canadians support the idea of organ and tissue donation, yet only 23 per cent are registered donors?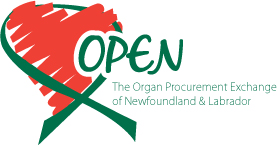 Who can donate?
If you have active cancer, organ donation is not possible.  However, in certain instances, even if you have a serious medical condition, such as ALS, you may be able to donate. There is no age limit for organ donation.
How do I indicate my intent to donate?
You can indicate your "intent to donate" by completing your Medical Care Plan (MCP) application or renewal form. The word "ORGAN DONOR" will appear on your MCP card. This indicates your intent to donate after death.
You can also register your intent on the MyGovNL website. Already registered? Login HERE
For more information about organ donation, visit the Easterm Health website, or call the Organ Procurement and Exchange of Newfoundland and Labrador (OPEN) at 709-777-6600 or toll free 1-877-640-1110.