Being a caregiver for someone with a life-limiting illness can be extremely rewarding but also very challenging. There is so much to learn.
Did you know?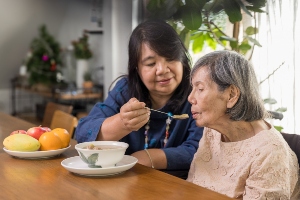 There are 8.1 million caregivers in Canada, with one in 13 providing care for someone with a life-limiting illness.
30 per cent of caregivers for palliative clients report experiencing distress, including feelings of anger or depression or experiencing conflict as a result of their caregiving activities.
It is estimated that 60 per cent of caregivers juggle the demands of caregiving while working full or part-time jobs.
Aspects of care
As a caregiver for someone with life-limiting illness, you may assist with many aspects of care such as:
practical tasks including housework, errands and meal preparation
personal care such as bathing and dressing
administering medications
providing emotional support 
Get support
Some caregivers take a leave of absence from their work so they can focus on caring for their loved one.
Please know that financial assistance is available through the compassionate care benefit.
If at any point in your caregiving experience you feel like these responsibilities are becoming too much and you feel overwhelmed or distressed, please reach out to your local community health office to arrange additional services such as home supports or counselling. The health-care team will work with you to ensure you have the skills and comfort to fulfill your caregiving role.
If you or your loved one experience a mental health crisis, please reach out to the Mental Health Crisis Line.
Caregiver resources
Administering Medications
Helping with movement
Helping with personal care